Understanding The Value Of WordPress
February 9, 2012
by
Jason Lindsey
No Comments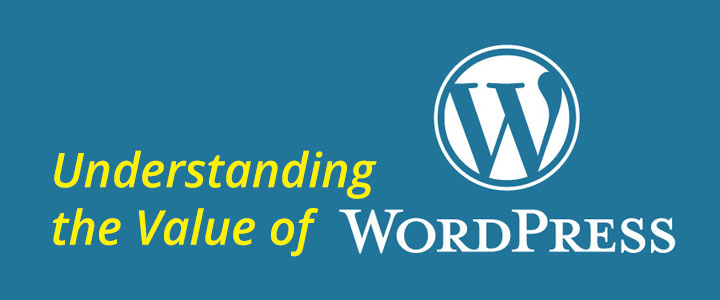 WordPress is a web-based software program that anyone can use to build and maintain a web site or blog. In 2003, WordPress was originally created as merely a blogging platform. But, thanks to the efforts of a large "open source" community of WordPress programmers working to extend and improve its capabilities, it has become much more than just a tool for bloggers. WordPress has since transformed into a full featured "content management system (CMS).
Today, WordPress can be used to run full-sized, social media-rich business web sites. What does that mean for your business? WordPress web sites have significant advantages over traditional HTML web sites or hosted "template" solutions. In general, WordPress sites are:
Easier to manage
More professional (by design, navigation and features)
Automatically optimized for search engines
Built to incorporate social media features like RSS, Facebook, LinkedIn, Twitter, YouTube, and so much more
Made with free, "open source" software that you will never have to pay to upgrade
Designed with an administrative interface where you can edit and update content
WordPress web sites also have big advantages over sites built and maintained by "web masters" or traditional web designers. With a WordPress site, you can add new pages, images, and all kinds of other media, and, in general, make changes to your site yourself. There's no need to call a "web master" or pay someone else. Using WordPress, you get a professional web site that functions exactly the way you need it.
Why you need WordPress as a web site solution.
As recent as 2004, you would have paid over $10,000 for a web site with the power and features of a WordPress web site. I have personally worked with and spoke with clients who have paid $60,000 for an e-commerce solution and $11,000 for a traditional web site. Not only is a WordPress solution less expensive than sites built from scratch with similar features, they are also much easier to use. Here are just a few of the reasons we use and recommend WordPress as your web site solution:
You want control of your web site and its content
You don't want to pay a "web master" every time you want to update text, upload an image, or add a new page
You want to be found with the search engines. WordPress is designed with search engines in mind, so that your site is easier to find in Google, Yahoo! and Bing
You want a website that easily incorporates social media
You want a website that looks professional and meets today's web standards
You don't' want to spend a fortune creating your online presence
Here are just a few of the features YOU (not a "web master" or someone else that will charge you for their time) can add to your WordPress site:
Blog posts
Links to other sites
Images and photo galleries
Videos
Audio/MP3s
Slide presentations
Surveys/Polls
Social Media Badges such as FaceBook, LinkedIn, or Twitter
Flickr photo streams/widgets
A WordPress web site is one of the smartest, most effective, online marketing solutions available. We've been happily building WordPress web sites for satisfied clients since the inception of our business
Ask us how we can help you get your business online using WordPress.